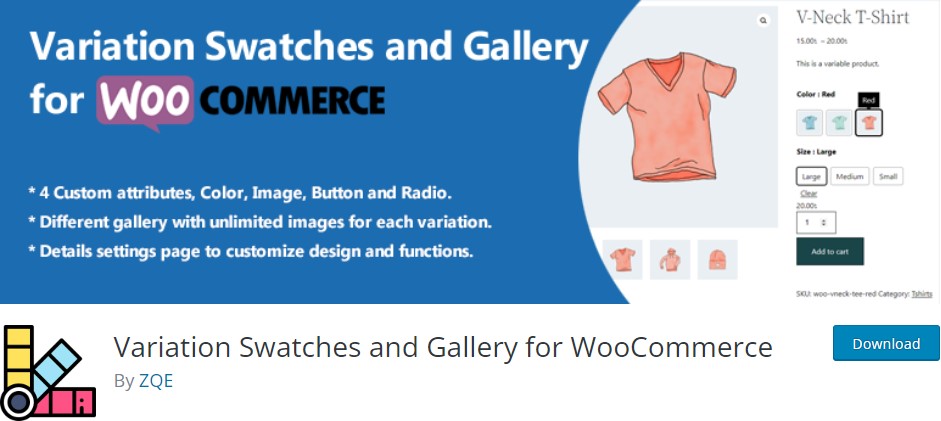 New in Town: Variation Swatches and Gallery for WooCommerce
By zqe
Variation Swatches and Gallery is a WordPress plugin for online stores that allows users to showcase product variations in a more interactive and visually appealing manner. The plugin replaces the default product drop-down menus for selecting product variations with color swatches, images, and labels. This makes it easier for customers to select the product variations they want and get a better sense of what the product looks like before making a purchase.
Here is a general outline of the features and benefits of Variation Swatches and Gallery:
Features:
Color, image, and label swatches for product variations
Display variations in a gallery slider or in a grid view
Option to show variation images as the main product image when a variation is selected
Tooltip option to show a product description or additional information
Customize swatch shapes, sizes, and colors
Fully compatible with WooCommerce and variable products
Supports multiple attribute types, including color, image, and label
Option to set default variation for each product
Benefits:
Improve the product selection process by giving customers a visual representation of the variations
Increase product engagement and sales by allowing customers to see the product in different colors and styles
Provide customers with more information about the product, including product descriptions and additional information, using tooltips
Enhance the overall user experience by making it easier and more intuitive to select product variations
To use Variation Swatches and Gallery, simply install the plugin and configure the settings to your liking. The plugin is user-friendly and easy to set up, with no coding required. You can start using the plugin right away to enhance the user experience for your customers and improve your online sales.